Community News
St. Michael School is an active part of the thriving Augusta area community. Articles about school activities, student awards, service projects, learning projects, and staff professional development is often posted in the Kennebec Journal.
---
Augusta Students Prepare Thanksgiving Baskets for Community



Eighth graders in Augusta are helping to make Thanksgiving special for folks.
Students at Saint Michael Catholic School spent yesterday packing Thanksgiving bags for the Salvation Army.
Today they passed them out out to nearly 150 families in need.
Each bag contains all the 

ingredients of 

a traditional thanksgiving meal.

"We're giving out thanksgiving bags to people in the community who may not be able to provide the food themselves, and to help them have Thanksgiving," said eighth grader Emma Skolfield. "It makes me feel pretty special to be able to do that."

"It raises their awareness to the need in their communities that they live in. it's great that they want to be involved. It makes them see the need out there and how they can be involved," said Lt. Kama Lyle of the Capital Region Salvation Army.

School officials say giving back to others is a fitting way to wrap up the Catholic Church's Holy Year of Mercy.




St. Michael Students in Augusta Assist Ronald McDonald Houses, Catholic Charities
AUGUSTA---In the Holy Year of Mercy, faculty and staff at St. Michael School in Augusta are providing opportunities for students and school families to become involved in activities aimed at cultivating a sense of giving and an understanding of the importance of offering mercy and healing to those in need.
In late January and early February, the school organized two collections to answer God's call to serve by assisting the Ronald McDonald Houses in Maine and Catholic Charities Maine's Threads of Hope thrift stores.
On February 11, the school welcomed representatives from both organizations for a schoolwide assembly (three pictures below) to present them with the items gathered. 
Each grade at the school had been assigned a different clothing category to collect, including socks, pajamas, clothing for children and adults, footwear, and other items. By the end of the collection during Maine Catholic Schools Week (Jan. 31-Feb. 6), the total donations were estimated to be around one thousand pounds and were given to Bill Wood of Catholic Charities Maine at the assembly. Proceeds from the Threads of Hope thrift stores in Portland and Sanford go towards supporting more than 20 Catholic Charities' programs around the state. Sales from the Caribou, Presque Isle, and Monticello stores support the Catholic Charities Food Bank in Caribou.
In addition to the clothing drive, St. Michael students collected aluminum can tabs to assist the Ronald McDonald Houses in Maine, located in Bangor and Portland, which provide housing for families who have a child being treated at a local hospital. Maine Metal Recycling in Auburn will weigh the tabs, pay the current rate for aluminum, and send the money to the program. The students presented Ashley MacMillan of Ronald McDonald House Charities of Maine with approximately 15 gallons of can tabs.
To find ways to become involved in the Holy Year of Mercy, visit the Diocese of Portland's special Holy Year of Mercy section.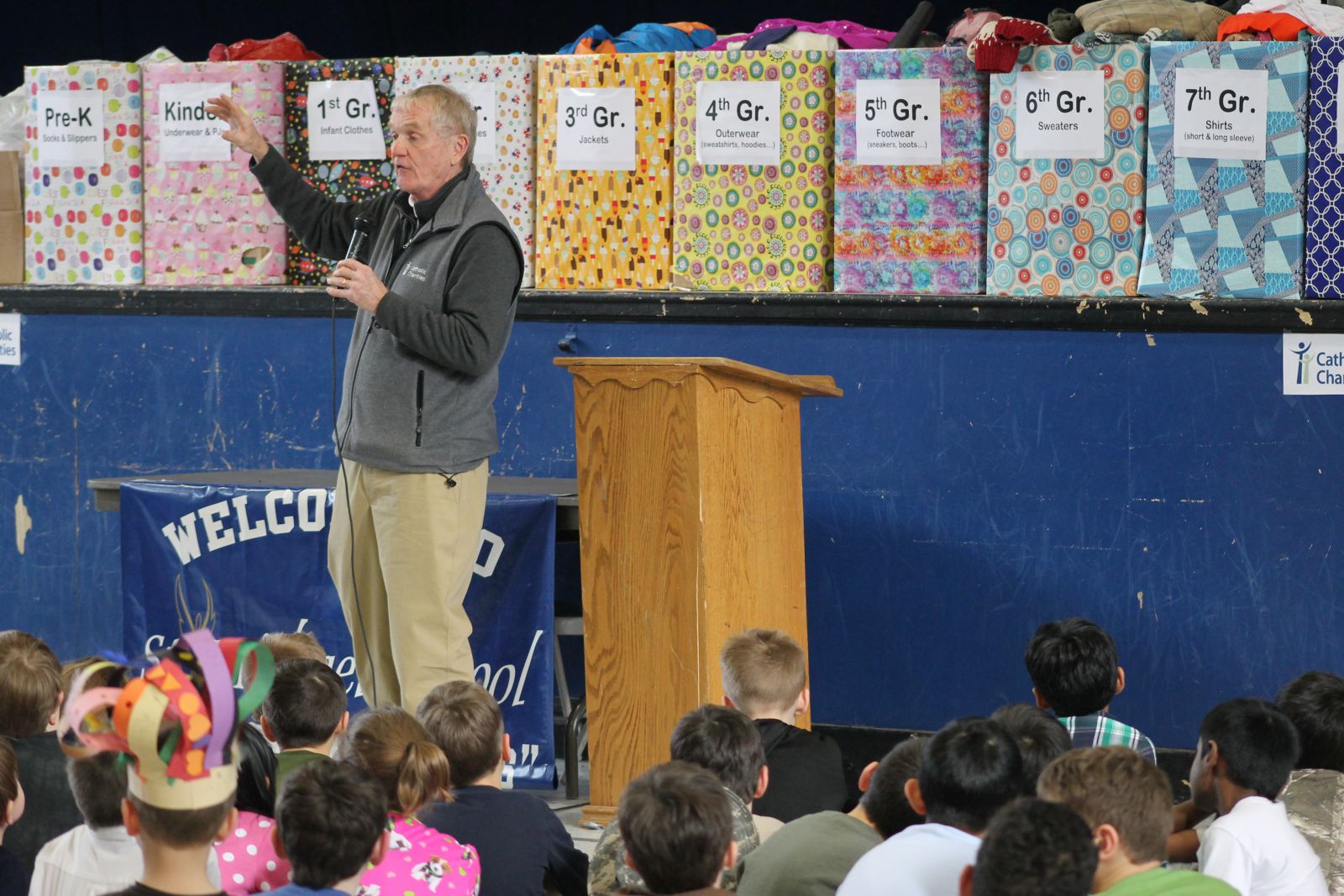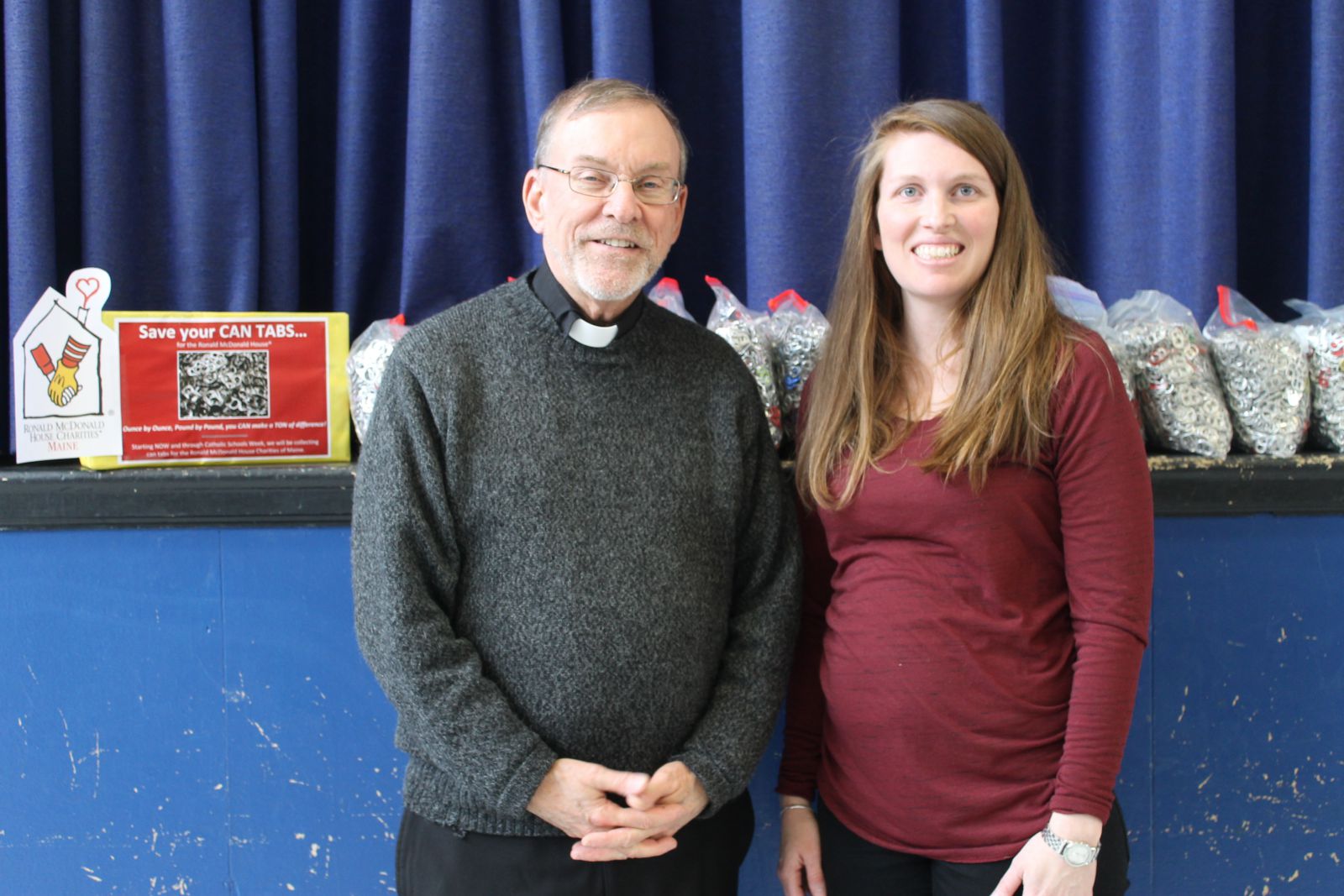 ---
Bishop Deeley Finds Different Ways to Explain the Meaning of Christmas to Augusta Students on Wednesday, December 2
AUGUSTA---In a morning that featured visits to each classroom (Pre-Kindergarten through Grade 8) at St. Michael Catholic School in Augusta, Bishop Robert P. Deeley adapted his messages about the beauty of Advent and the true meaning of Christmas to suit the smiling children he met along the way 
(11 pictures below)
.
When Bishop Deeley asked first graders what holiday was approaching, raised hands quickly filled the classroom.
"Christmas!" excitedly said one student.
"What are we celebrating on Christmas?" replied the bishop.
"Jesus' birthday!" exclaimed another first grader.
"That's right," said Bishop Deeley. "Advent means 'coming.' Remember what Jesus came to tell us. He came to tell us that God loves us and that we need to love one another and take care of one another. Being kind to each other and to others in the world is a way to show that love."
Pre-kindergarteners and kindergarteners were enthralled as the bishop carefully turned the pages and displayed the pictures from a children's book entitled 
The Christmas Story
.
"Mary traveled with Joseph on a donkey," read the bishop before looking up and telling the children, "they didn't have an SUV, you see."
While spending time with the fourth graders, the bishop spoke about the meaning of the Advent wreath and its four candles.
"The four candles represent the four weeks of Advent," said the bishop. "Each week represents one thousand years and adds up to the 4,000 years from Adam and Eve to the birth of Jesus."
Later in the morning, Bishop Deeley visited the classrooms of the fifth through eighth graders, who all admitted excitement about the Christmas presents that they will give and receive in just a few weeks.
The bishop explained to the older students that presents at Christmas hold a symbolism far more powerful than whatever the gift might be and should never feel like a chore.
"We give gifts at Christmas to remind ourselves that Jesus is the real gift and that God loves and cares for us. One way in which we show that love and respect is by giving presents to each other," said Bishop Deeley. "It should never feel like a burden like we see on television and on the news sometimes. It doesn't matter how big or small the gift is because they are signs of love for the people you care about. That's the true meaning of Christmas: love."


Bishop Deeley Meets with Catholic School Students in Augusta
May 7, 2014

AUGUSTA---During the month of May, Bishop Robert P. Deeley will visit 28 different churches

On Wednesday, May 7, Bishop Deeley spent the morning at St. Michael Catholic School in Augusta (pictures below).During a special assembly, the bishop spoke to the entire student body about the importance of Catholic education and thanked the teachers and staff for their daily efforts in working with the "future of the Church." Later in the morning, Bishop Deeley stopped by each classroom in the school.

"It was amazing," said eighth grader Michael Levesque. "It's great to see him visiting all of the schools. He makes things easier to understand in terms of how to put God into our lives, and he makes it fun."

"He is so important, but he is so personable," said Laura Parent, a classmate of Michael's. "It was surprising to hear that he has spent so much time in different places like Rome and Africa. It was really cool."

Dave Guthro, Communications Director, Roman Catholic Diocese of Portland
---